Basic policy
Behavior standard of Fujikura Kasei group
(Sustainable management and product development)
1.We will maximize corporate value by achieving management plan according to each company's business style to realize sustainable management.
2.We will continuously strive for R & D and provide excellent products and services.
(Compliance with laws and social norms)
3.We will respect compliance with laws and regulations, respect the cultures and customs of the countries and areas in which we operate, act according to the common sense of society.
(Respect for fundamental human rights)
4.We value the fundamental human rights and individuality and eliminate any discrimination.
5.We will create a workplace without harassment.
6.We will not engage in acts of war, civil war or antisocial forces both directly and indirectly.
(Fair trade)
7.We will consider opinions of each stakeholder and build a proper and transparent partnership.
(Health and safety)
8.We will establish an occupational safety and health management system and work with priority on safety and health.
(Environmental protection)
9.We will build an environmental management system and strive to contribute to the environment by reducing the possible environmental impact from our business processes and creating environmentally friendly products.
(Quality)
10.We will build a quality management system and aim to improve customer satisfaction.
11.We will establish a chemical management system and conduct necessary control according to laws and regulations to prevent health problems associated with chemicals.
12.We will formulate business continuity plans and strive to provide stable supply of our products to customers.
(Disclosure and management of information)
13.Information concerning the Fujikura Kasei Group will be disclosed in a timely and appropriate manner.
14.We will prevent leakage of information to be managed by strict and appropriate information security management.
15.We will properly manage and operate the property of the company (including intellectual property) and will not do any infringement of the property of other companies.
(Social contributions)
16.We will contribute to the local community through dialogue and activities with the community.
---
Coating care
About Coating Care
Coating care is the global paint and printing ink industry's unique self-management activity concerning "Environment," "Safety," and "Health." In Japan, the "Basic policy concerning coating care" was announced and the Japanese edition of "Coating care" was issued in October 1998.
This initiative implements specific management items by defining them as four management guidelines for health, safety, and environmental management practice, for example, energy consumption, PRTR reports, industrial accidents, industrial waste, and others as well as providing information on such concerns to the community.
Implementation declaration
Our company agrees with this initiative, and first declared its implementation in July 2001. Since then, we have continued with activities under the following policies posted:
1)"Provision of excellent products" concerning the environment, safety, and health;
2)"Business activity with ingenuity" concerning the environment, safety, and health;
3)"Partnership building" concerning the environment, safety, and health.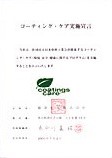 Four management guidelines and long-term plan
Manufacturing management guideline


Well-established culture that is completely accident free, creating a lively workplace and security of safety in the process

Shipping and transportation guidelines


Strong partnership building with subcontractors

Product lifetime management guideline


Design and development based on life cycle assessment, and establishment of a global chemical substance management system

Community responsibility guideline


Planning and development of measures for contribution to the community upon disaster, and continual participation in networking events and activities in the community
---
Action plan
Supporting and fostering the next generations
Promoting the success of women